Why do you need PSI-PCI training as a Fire Fighter?
Fire fighters know HAZMAT. But they often don't realize that part of the equipment that they depend on to do their job is considered hazmat!  They are not aware of the risks involved in mishandling of the bottles in their breathing packs or O2 kits.  They are often unaware that each person is required to have formal, function specific training to their level of exposure to the hazmat.  We can teach you SCBA bottle inspection!
PSI-PCI, Inc. started in the dive industry but hasn't stopped there. We have trained firefighters worldwide in visual cylinder inspection. We have saved fire stations thousands of dollars in cylinder maintenance and help to keep their cylinders in top operational form by training necessary personnel on cylinder handling, fill station operations and to visually inspect them on a regular basis without waitin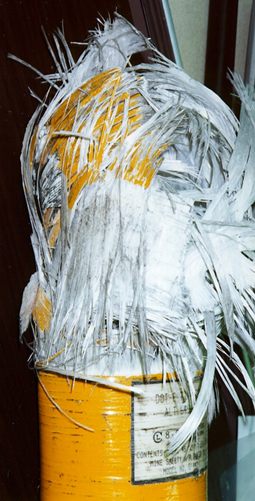 g 5 year intervals for hydro-testing.  This has not only saved money, but it has saved lives!
Many fire stations explain that they send their bottles out for service so this training is not for them.  But ask yourself this:  Do you know what standards are being used by the person(s) performing the work on your life support equipment?  Would you trust your life to just anyone?  It is dangerous to assume. 
Cylinder safety is not only an important part of the firefighter's daily routine, but our training has also saved lives out on calls. We have consulted with firefighters at the scene when high pressure cylinders are involved which not only put the firefighter at risk but bystanders as well.
PSI-PCI, Inc. is the industry leader in training for visual inspection. We do not make the rules, but our training is based on the rules and regulations of the Code of Federal Regulations applicable to these high pressure cylinders.  We have taken the information and regulations and created the Visual Cylinder Inspection program.  With our 18 step protocol, you can apply that information to perform formal visual inspections on your bottles.  We are the only recognized training of our kind in the US and our training has been the standard by which cylinder accident cases have been tried in US Courts. 
PSI-PCI offers the only training on this subject recognized, endorsed, referred to and utilized by the cylinder manufacturers; and recognized by USDOT and Compressed Gas Association as a fundamental part of any cylinder inspection, maintenance and safety protocol.
Some of our customers include fire service personnel around the world, police, all branches of the military, USDOT, cylinder manufacturers, NASA, NOAA, and many others.  Anywhere that high pressure breathing gas cylinders are utilized, we are there to help train inspectors and provide ongoing support and expert consultation.  You won't find a higher level of support anywhere!